Introduction
Sometimes the hardest part about building a computer is deciding what parts to buy. Do you choose a full sized motherboard and have plans to upgrade later or go with a smaller system route and live with what you have for the life of the system. In the past those questions were answered by determining the purpose of the system and asking your bank account how much you could afford. These days you can still ask those questions but the decision if often based on cosmetics and capacity rather than raw power.

While we still believe that the best system is the one you build yourself there are other options for those with the knowledge and knowhow but lack the time and dedication required to put together the perfect system. For situations like this we can turn to boutique builders like E3iO for a solution. In this review we will be looking at the SK02 SNACK Series computer from E3iO which is designed to be a very capable desktop PC with the power to do more than just play movies and manage your bank account.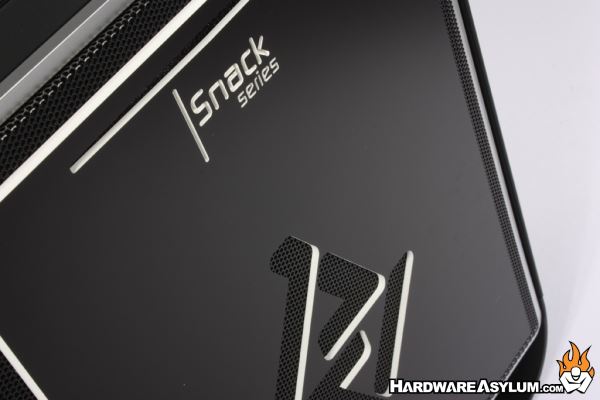 E3iO SNACK systems are built to order based customer selections. For instance the SK01 is built on the Mini-ITX Sandy Bridge platform with a multitude of configuration options including processor, memory and video card. The SK02 is designed to support the Ivy Bridge platform and offers many hardware enthusiast options including K edition Ivy Bridge processors, watercooling, and GTX 600 series graphics. Both systems come in a customized BitFenix chassis and are available in a variety of colors to fit your individual tastes.

E3iO was kind enough to build us an amazing machine so, let's start with the specs.
E3iO SK02 SNACK Series Desktop PC Specifications
BitFenix Prodigy Chassis
Intel® Core™ i5-3570K 3.40 GHz 6MB Intel Smart Cache LGA1155
AsRock Z77E-ITX Mini ITX Motherboard
ThermalTake Water 2.0 Performer Liquid Cooling
120GB SSD SATA III 6.0Gb/s
2TB SATA-III 6.0Gb/s 32MB Cache 7200RPM HDD
Corsair DOMINATOR Platinum 8GB DDR3/1600MHz Dual Channel Memory
Microsoft® Windows 8 Pro (64-bit Edition)
Corsair Builder Series 500W CX500 V2 80 Plus Power Supply
NVIDIA GeForce GTX 650Ti EVGA Superclocked Video Card
8x Slot Load SATA Multi DVD+RW adapted for Snack Series
As you can imagine the SK02 SNACK series computer does come with a price premium but considering the hardware differences and available options this is to be expected. For a full disclosure and individual build options please check out the
E3iO website
.
System Layout and Features
As was mentioned before the SNACK Series is built on a slightly modified Bitfenix Prodigy chassis that includes a machined plastic faceplate with the E3iO logo in the middle. Part of the modification process is to replace the blocky external drive bay with a single opening for a slim slot load style DVD+RW.
You will find the front panel connections along the right side of the chassis which include all of the major connections including power and hdd activity LEDs.

The top and bottom handles found on the SNACK chassis are a FyberFlex composite that is designed to be flexible and extremely strong. These handles may not seem like much but they support the SK02 quite well and provide some shock absorption during transit.
Under the handles you will find a removable fan filter with placements for two 120mm fans. Both of these will be empty due in part to the optical drive cooling system inside the case.

Turning the case around exposes the I/O panel and video card connections. This version of the SK02 comes with a GTX 650 Ti graphics card. You will find those video connections towards the right side of the case.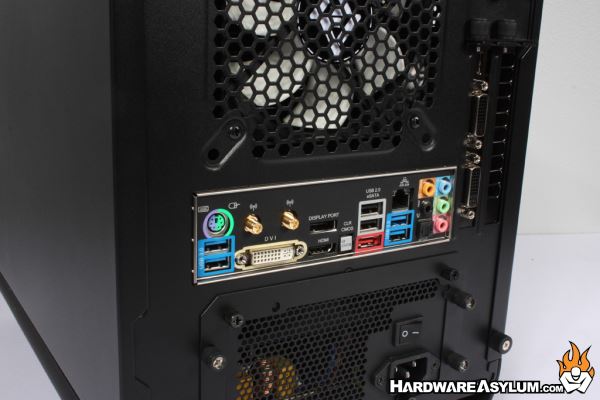 The AsRock Z77 Z77E-ITX motherboard used in the SK02 is quite nice and comes with a good cross section of features including USB 3.0, Display Port, HDMI, eSATA, Gigabit Ethernet, WiFi with external antenna and 8.1 surround sound audio over either optical or analog.
System Construction
Modern chassis design has allowed the system builders more freedom in how they install their components and ultimately the option to dress up their installations. The most notable of these features is with cable management and the art of hiding extra wires to improve cooling and make things look nice and pretty.

Boutique builds like the E3iO SK02 SNACK are custom by nature meaning that all of the cable management is done by hand and needs to be tailored to the overall system configuration. Looking through the case we can see that all of the cables are routed out of the way with the majority of the wires being hidden from view.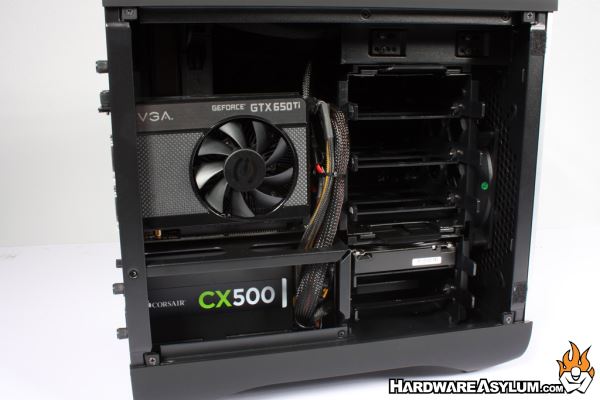 All of the cables you do see are stock. By this we mean that there was no effort to dress up the wires beyond what was provided by the manufacture and, in some cases, may not look as nice as it could. We don't feel this is a huge concern since 1) there is no side window and 2) Users of this product may never open the side panel again except to install additional hard drives.
Of course all of those extra wires have to go somewhere and by removing the back panel, holding the power and reset buttons, you can get a glimpse of what was done to hide those wires from view. As the photos show all of the extra power leads are tucked nicely under the motherboard tray and bound together with zipties.
System Components
Storage is split between a 120Gig SATA III SSD acting as your main system drive and a secondary 2TB storage drive. The intent here is to install all games and programs to the storage drive leaving the super fast SSD to run the OS and store profile information. You have the option to add up to four drives using the E3iO system configuration including two drive RAID 0 setups between storage and OS drive configurations.
A single dual fan Thermaltake Water 2.0 Performer is used to keep the Core i5 3570K Ivy Bridge temps under control and Corsair Dominator memory finishes out the subsystem. Both of these items are configurable when you order your system and is the option we would have picked.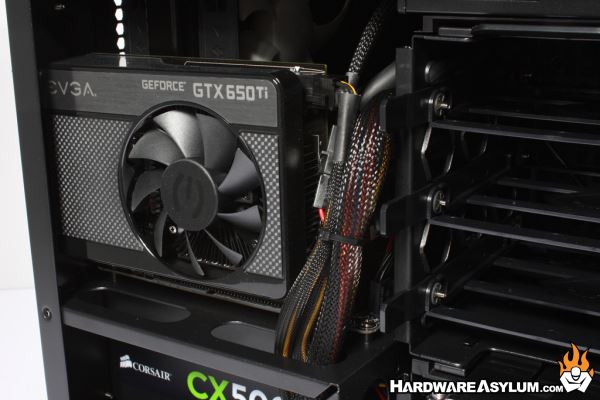 GPU selection is often the most difficult decision you will have to make with any system. Our SK02 comes with a GTX 650 Ti from EVGA but you have the option to select almost any 600 series card in the EVGA line-up including a 2GB GTX 680 or 4GB GTX 670.
SK02 SNACK System Performance
When ordering your SK02 SNACK system you have the option to have E3iO overclock it for you or, you can attempt to overclock it yourself. The key to your success will be based which processor you select and, in this case, you will want a K edition. E3iO supplied our system with a Core i5 3570K but left it at the default speed.

One feature that is often overlooked is enabling the XMP memory profile. It may seem strange but this one tweak goes a long way to safely increase system performance.
As this wasn't enabled in our system, we went ahead and made the change.

If you want to mess with overclocking the system there is a menu in the AsRock UEFI to load an optimized CPU OC setting that basically ramps up the CPU and turbo multiplier to one of the pre-determined levels.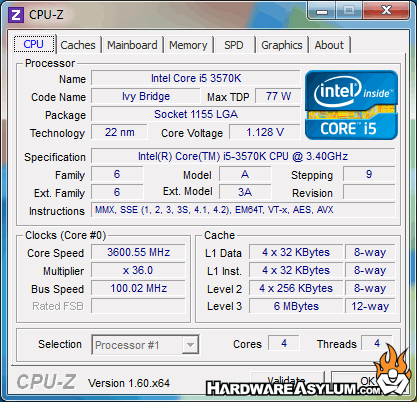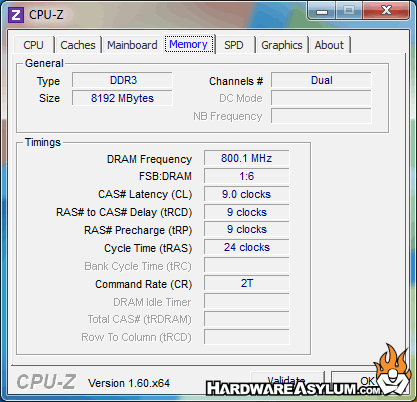 Overclocking is never guaranteed so use caution when messing with system settings and if in doubt save your current profile before making any changes. That way you can get back to a good configuration if your overclocking adventure goes south.
Benchmarks
We ran a series of system benchmarks on the SK02 SNACK to give us a baseline of system performance. The effective system speed for these tests was 3.6Ghz with EIST enabled allowing the system to adjust the max frequency based on load. We did enable the XMP memory profile to increase memory bandwidth and overall performance.
3DMark 11
There are six tests in 3DMark 11. The four graphics tests use advanced rendering techniques to compile the scene including tessellation, volumetric lighting, depth of field and post processing effects. The physics test uses rigid body simulation to stress the CPU while the combined test features CPU and GPU workloads. The CPU handles rigid-body physics while the GPU is tasked with volumetric lighting, tessellation, post processing as well as simulating soft-body physics using DirectCompute.
Benchmark Settings
Performance Settings - Benchmarks Only

3DMark Vantage
3DMark Vantage is a full DirectX 10 compliant synthetic benchmark designed to test the DirectX 10 abilities of your video card and computing power of your PC. After the benchmark completes you are given a report card of the performance and are given the option to submit the results to Futuremark where they can be ranked against others with similar hardware.
Benchmark Settings
Performance Settings - Benchmarks Only

Crysis 2
Crysis 2 is a CryEngine 3 powered game designed to set the standards for high quality graphics. The game engine has been upgraded to support DX11 and features Nvidia technologies such as native 3D Vision support. We are using the Adrenaline Crysis 2 Benchmark Tool and the Central Park map to capture framerates.
Benchmark Settings
Quality Ultra
Anti Aliasing 4x
Map Central Park
API DirectX 11
Edge AA Edge AA
Hi-Res Textures Off
Futuremark PCMark 7
PCMark 7 is a overall system benchmark designed for Windows 7 that combines more than 25 individual workloads covering storage, computation, image and video manipulation, web browsing and gaming. The PCMark score is completely portable however to recreate it the score completely you will need almost identical hardware.

Futuremark PCMark Vantage
PCMark Vantage is a system benchmark from the makers of 3DMark. It uses a variety of 2d tests to determine an overall computer score based on your system configuration. The PCMark score is completely portable however to recreate it the score completely you will need almost identical hardware.

Bapco SYSmark 2007 Preview
Bapco SYSmark 2007 is a true real-world benchmarking suite that tests whole system performance by running through a series of real programs while recording the results. These programs include: Adobe After Effects 7, Adobe Illustrator CS2, Adobe Photoshop CS2, AutoDesk 3ds Max 8, Macromedia Flash 8, Microsoft Excel 2003, Microsoft Outlook 2003, Microsoft PowerPoint 2003, Microsoft Word 2003, Microsoft Project 2003, Microsoft Windows Media Encoder 9 series, Sony Vegas 7, SketchUp 5, WinZip 10.0


Bapco SYSmark 2012
Bapco SYSmark 2012 is a true real-world benchmarking suite and upgrade to SYSmark 2007 Preview. The new benchmark brings true 64-bit application testing along with full support for Windows 7 and Windows 8. SYSmark tests the whole system performance by running through a series of real programs while recording the results. These programs include: ABBYY FineReader pro 10.0, Adobe Acrobat Pro 9, Adobe After Effects CS5, Adobe Dreamweaver CS5, Adobe Photoshop CS5 Extended, Adobe Premiere Pro CS5, Adobe Flash player 10.1, AutoDesk 3DS Max 2011, AutoDesk AutoCAD 2011, Google Sketchup Pro 8, Microsoft Internet Explorer 8, Microsoft Office 2010, Mozilla Firefox Installer, Mozilla Firefox 3.6.8, Winzip Pro 14.5.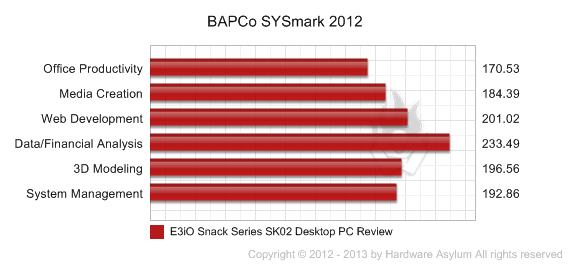 SiSoft Sandra
Sandra is a large collection of synthetic benchmarks that are used to test every aspect of a computer system and give us a basic idea as to what a system is capable of.




Conclusion
When buying a custom computer for there are many ways you can go. The mainstream route will get you an OEM style system, but as they say, you get what you pay for and in the end you may not be happy. Another route would be to approach a boutique builder, such as E3iO, and spec out exactly what you want. In this review we looked at the SK02 SNACK Series Desktop PC built using a small form factor Mini-ITX motherboard and Ivy Bridge processor.

The system is extremely well built and comes with a good combination of mainstream components including the Core i5 3570K processor and GeForce GTX 650 Ti. While these may not be top of the line they work quite well together and provide a good mix between performance and price. Cooling was handled by a Thermaltake Water 2.0 Performer which not only kept the CPU running cool but, also helped vent the chassis.

Our test system came with a full installation of Windows 8 Pro which worked perfectly. We powered on the system and were almost immediately prompted to enter our product key, after a couple of reboots the system was set and ready to good. Drivers were pre-installed and it even detected the local wireless access points asked for the key to connect. The process from power to desktop was very polished and really made it seem like we owned the machine instead of getting something configured and built by someone else.

Every SNACK Series machine comes with a lifetime of customer support so if you have any issues with the system you can call them to sort out the problems. The hardware carries a full warranty which is outlined in the included owner's notebook.
Each system is fully tested before leaving the factory and the individual performance results are recorded in the notebook along with the full system specs. We, of course, ran our own benchmarks for this review but it is nice to see a system builder stand behind their product with proven results.
You even get a certificate of ownership signed by the E3iO directors.
We really enjoyed using the SK02 and the configuration provided by E3iO was a perfect match of mainstream components to create a very capable machine. Nothing in this build would prevent you from playing your favorite PC game or even running a few benchmarks with friends. Wireless connectivity ensures that you can use this system anywhere and is complemented by the small size.
The SK02 SNACK Series computers start at $799,
visit the E3iO website
to order and for full custom options.
Good Things
Ivy Bridge Processor
Watercooling option
Clean Chassis Design
Carrying Handles
Variety of Colors Available
Fully Configurable
Bad Things
No Blu-Ray option
Source: HardwareAsylum.com
http://www.hardwareasylum.com/reviews/systems/e3io_skn02_snack/